EN 1948-1 Stationary Source Emissions – Sampling Train
EN 1948-1 Stationary Source Emissions – Sampling Train
Since the introduction of EN 1948-1, TCR TECORA has been dedicated to the production of a sampling system that is fully compliant with all the parameters outlined in the EN standard.
This commitment to EN 1948-1 has led to the development of a system that features the filter/condenser method, a well-known approach for short-term sampling.
In adherence to EN 1948-1, TCR TECORA also produces a variant that has solid media positioned upstream of the condensation flask.
To ensure the integrity of the sample, all materials utilized in the system are carefully chosen for their compatibility with the requirements specified in EN 1948-1.
This includes the use of titanium for all probe components, a glass filter casing with a PTFE filter holder for the 47/50 mm membrane, a glass condenser, and a glass XAD-2 container.
In accordance with EN 1948-1, our probe is heated between the dew point of the gas and 120 °C. To protect the sampler from moisture damage and potential sample contamination, a silica gel tower is installed after the condensation flask.
TCR TECORA's commitment to EN 1948-1 extends to our use of only swagelock type connectors and metal sealings. This leak-free system has been a key to our success, recognized by hundreds of customers who use TCR TECORA systems for dioxin sampling daily.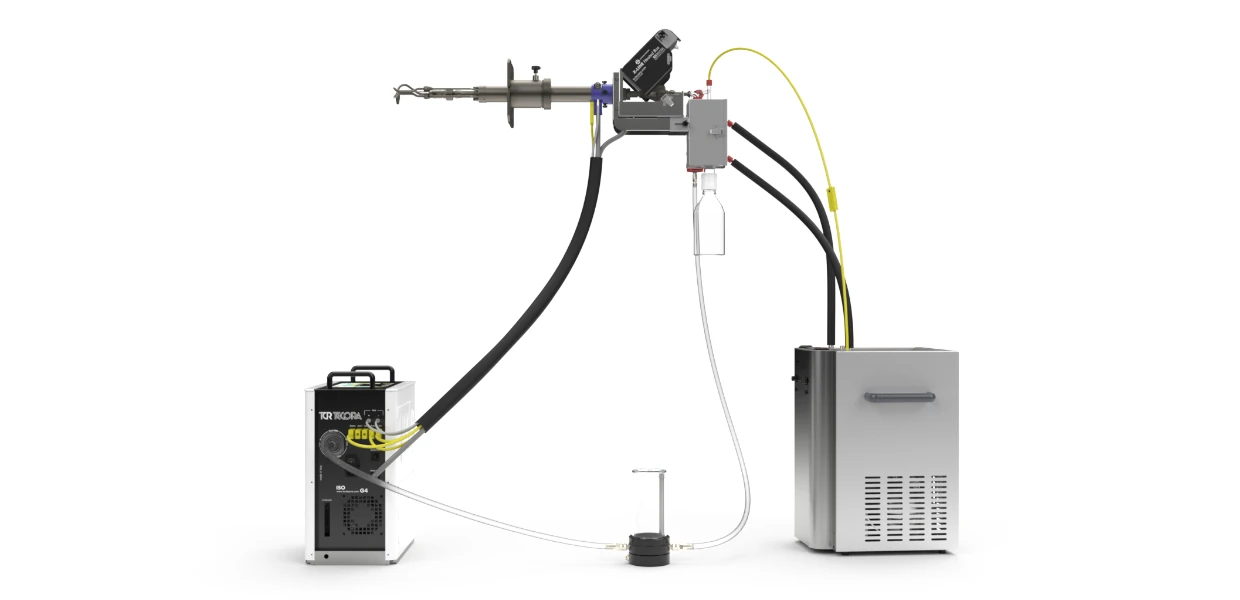 1
ISO G4
(Isokinetic Sampler)
2
360° Rotating Probe
(Isokinetic Heated Probe for Stack)
3
X-Trap
(Condensing Device)
4
Isofrost 3
(Condensing Device)
The probe is available in various length and different materials, depeding if you need to sample only particulate (stainless steel is permitted) or in conjunction with other pollutants (Titanium, PTFE, Borosilicate glass or Quartz)
In line with EN 1948-1, we monitor the condenser's temperature with a special sensor made of inert material that doesn't absorb any compound under test. This sensor is directly inserted in the sampling line, and its signal is used to manage ISOFROST 3, which pumps the cooling liquid onto it.
In conclusion, TCR TECORA's commitment to EN 1948-1 is unwavering. We continue to produce high-quality, compliant sampling systems that meet and exceed the stringent requirements of EN 1948-1.
Instruments Compliant to the regulation EN 1948-1
Click to Know More about the Instruments
Do you need further information about? Write to us!
Did you like it? Share it!
Member of: