Andersen Cascade Impactor
8 Stage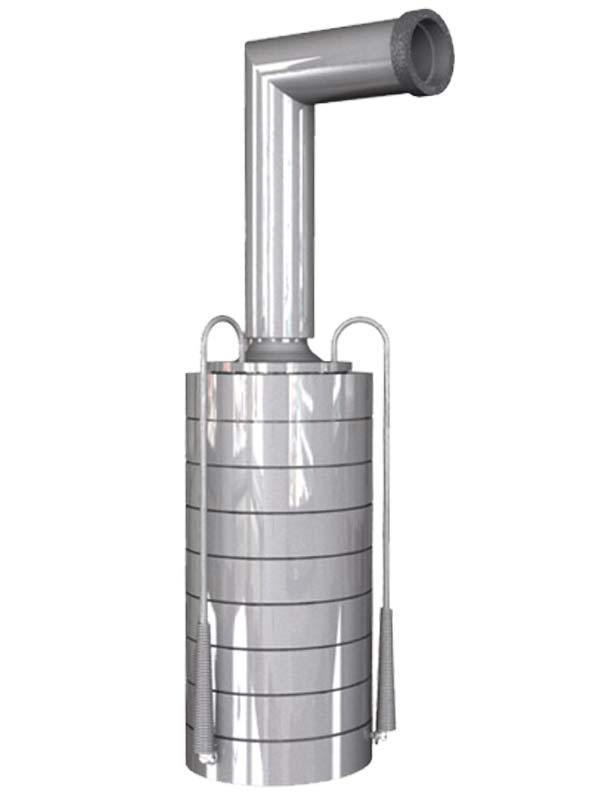 3
1st Stage d50 = 8.6 μm (60 l/min-¹)
4
2nd Stage d50 = 6.5 μm (60 l/min-¹)
5
3rd Stage d50 = 4.4 μm (60 l/min-¹)
6
4th Stage d50 = 3.3 μm (60 l/min-¹)
7
5th Stage d50 = 2.0 μm (60 l/min-¹)
8
6th Stage d50 = 1.1 μm (60 l/min-¹)
9
7th Stage d50 = 0.54 μm (60 l/min-¹)
10
8th Stage d50 = 0.25 μm (60 l/min-¹)
12

Made in Italy
Andersen Cascade Impactor 8 Stage
MDI Metered Dose Inhalers; DPI Dry Powder Inhaler
Aerodynamic particle sizing
The design concept of the Andersen Cascade Impactor evolves from the following information:

The human respiratory system tract is an aerodynamic classifying system for airborne particles. A sampling device can be used as a substitute for the respiratory tract as a collector of airborne particles, and as such, it shall reproduce to a reasonable degree the lung penetration by these particles.

The IMP-8, 8 Stage "Andersen type" Cascade Impactor ACI, with 400-201-96 small round jets per stage meets all the criteria for the efficient collection of airborne particles.
Cascade Impactors – Impaction surfaces
Cascade impactors are multi-jet, multistage devices operating at constant flowrates that allow the characterization of an aerosol in terms of its particle size distribution.
Different impaction surfaces can be used to collect the airborne particles on the impaction stages, and the features of the impaction surfaces depend on the analytical needs. Glass dishes, stainless steel plates, glass-fiber/quartz filter and other membranes are mostly used. Glass dishes (used for optical analysis) and stainless steel plates are used in DPI and MDI applications to test inhalation suspensions and spray. Glass-fiber filters are commonly used for gravimetric analysis because they are lighter and less hygroscopic. Other types of filters (quartz, PTFE, polycarbonate membrane..) can be used for chemical speciation and physical characterization of
the sampled particles.
| Product | Code |
| --- | --- |
| 8 Stage Cascade Impactor (IMP-8) | AC99-120-0020SP |
For Further Information, Write Us!