Delta X
Constant Flow Sampler Portable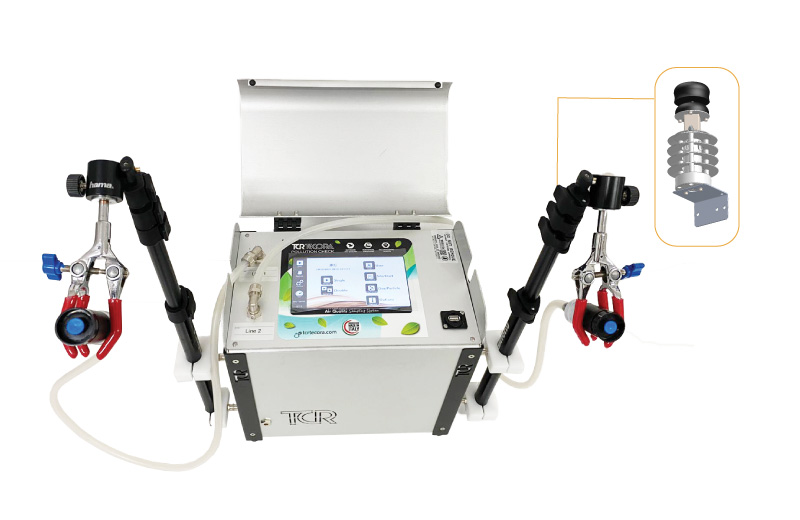 3
Extendible Sampling Point
11
METEO Sonic Control Unit
Wind (Velocity / Direction);
Humidity;
Pressure;
OPC Real Time PM2,5, PM1.
Delta X Constant Flow Sampler Portable
DELTA X is a new Constant Flow Sampler Portable developed and build by TCR Tecora®.
Thanks to advice get in the last few years from Delta and Delta MK2 version, R&D division (https://environmental-research.tcr-tecora.com/) has introduced more functionalities in the new version DELTA X that makes this new version a valid work instrument.
DELTA X is a constant flow sampler with the possibility to have a wide flow range from 50 to 22000 cc/min (single line version), or as alternative it is possible to have DELTA X DUO version that can manage two single independent sampling lines from 50 to 25000 cc/min on a single line or in case is necessary more flow it can use two lines in parallel with a maximum flow up to 50 l/min.
This instrument can be equipped with a lot of options:
Speed and wind direction sonic sensor;

OPC (optical particle counter) for real time determination of 24 dimensional classes complete with PM10 – PM2,5 – PM1
measurements;

Telescopic fast-lock system for filter holder installation;

Transport system with shoulder belt;

Possibility of remote control by Wi-Fi
Delta X Main Applications
Delta X Technical Features
Download now the DELTA X Brochure
Do you need further information about? Write to us!