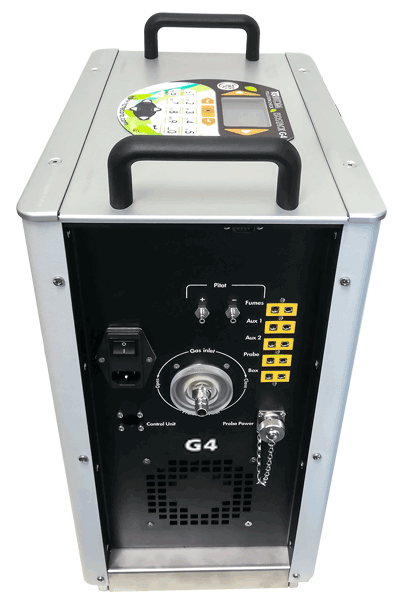 2
Differential pressure sensors
UNI EN 13284
UNI EN ISO 16911-1
US EPA M5, M17
ISO 12141:2002
G4 is the 4th generation isokinetic sampler of TCR Tecora
G4 Isokinetic Sampler is the result of a long tradition of isokinetic sampler, started in 80s with Isostack B6.
The solution offered with this new instrument can be summarized in 4 main characteristics:
Easy to use

Reliability

Accuracy

Sampling Quality (QA/QC).
Easy to use
G4 offers two different configuration to meet different type of use.
It is available in a "all in one" and in a "split" version.
The first is dedicated to whom wish to reduce the costs and have the maximum portability.
The second to whom wish to carry on stack platform only the control panel and leave on plant floor the pump unit.
Reability
G4 uses quality components which grant reliability in time.
Last generation electronics, which assures high immunity from electromagnetic noisy and designed to work even in severe ambient conditions .
Accuracy
High precision pressure sensor with thermal drift compensation.
Thermocouple calibration curve following ITS 90 standard.
Sampling Quality (QA/QC)
Calibration curve on 5 points for each sensor and acquired width. Correction curve on 5 points programmable by customer for each sensor.
Allows to adjust deviations eventually found during re-calibration.
Volume measurement redundancy now coming from a mass and a volume meter.
Download the G4 Isokinetic Sampler brochure Right Now!
Do you need further information?
Do you need further information?