Flowcal Air
Multifunction Calibrator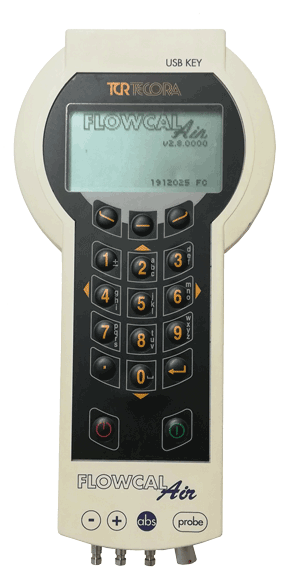 3
Navigation and Menu Functions
6
Flow measurement cell connection
7
Connection to measuring cells Flow rate
Flowcal Air Much More Than a Simple Flow Calibrator.
Flowcal Air Multifunction Calibrator allows to perform all necessary controls to verify the calibration of some parameters, which are normally measured by sampler, like flow rate, pressure and temperature. This characteristic makes Flowcal Air unique to test the accuracy of an instrument and to follow a quality system procedure.
Measurement traceability 
This is very important to follow a quality system procedure. Flowcal Air generates a calibration report, containing the following data: cell in use, calibration expiration date, ambient conditions during verification test, deviations, test date and hour, etc.
It is no longer necessary to write paper reports.
Flowcal Air has a USB port: to download the report, simply insert and copy files onto a common USB key.
Sensor and measurement calibration have been performed with high accuracy and care. Each sensor is calibrated through an accurate procedure and is traceable to standards.
Each instrument is supplied with a calibration certificate or, optionally, with ISO 17025 accredited laboratory certificate.
Flowcal Air Main Features
Flowcal Air Technical Features
Download now the Flowcal Air Brochure
Do you need further information about? Write to us!