Bravo X DUO
Constant Flow Sampler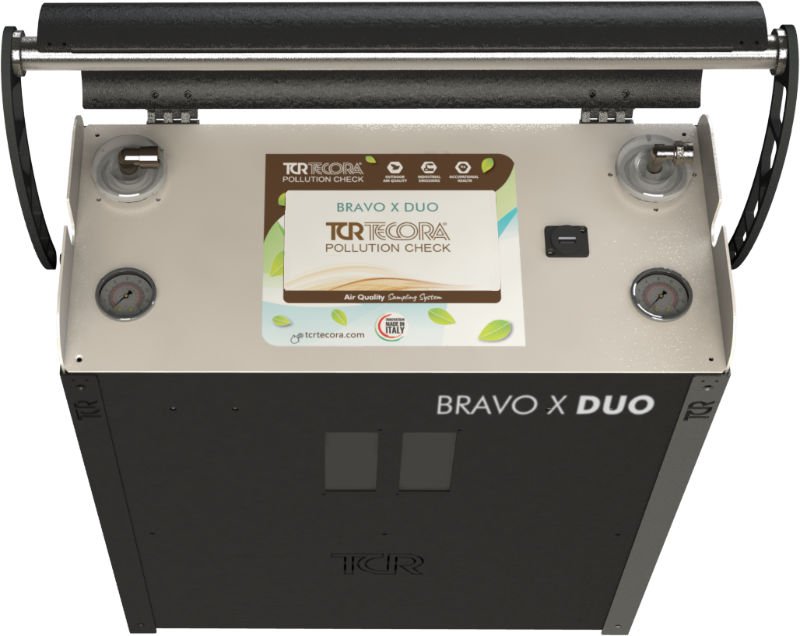 7
USB Connector – Data Transfer
Bravo X DUO Constant Flow Sampler with 2 diaphragm pumps
Bravo X DUO is a constant flow sampler with 2 diaphragm pumps and double heads!
The heart of BRAVO X DUO consists of two diaphragm pumps resistant to aggressive gases. Flow control is assured by a microprocessor board.
Two independent samplers in the same chassis! This means:
– To carry out double sampling with different methods;
– Less weight during transport;
– Less amount of space required during access to the sampling area.

An external coloured LED stripe, visible from a long distance, indicate the running condition during sampling (ok, warning, alarm, stopped).
BRAVO X DUO is capable to perform a constant flow or in isokinetic sampling, setting the flow and correct it manually in case of need.
If you want to transform one sampling line of DUO to perform an AUTOMATIC isokinetic sampling, connect it to FLOWTEST: Bob's your uncle!!!
On-board are installed:
• An analog input is available to acquire an external flow measure;
• 1 Atmospheric pressure sensor (to refer the sample at standard condition);
• 1 Type K thermocouple input (Stack gas temperature measure);
Bravo X DUO BASIC and Bravo X DUO PLUS
Download now the BRAVO X DUO Brochure
Do you need further information about? Write to us!