BFE VFE Bio Kit Bioaerosol Sampling System
In Accordance with: EN 14683 • ASTM F2100 • ASTM F2101 • EN ISO 9237
BFE (Bacterial Filtration Efficiency) and VFE (Viral Filtration Efficiency) Bio Kit Bioaerosol Sampling System, allows to be in compliance with all the requests for BFE % efficiency test (Bacterial filtration efficiency), VFE Viral Filtration Efficiency test and breathability test (Pa/cm²) for medical face mask materials according to the EN14683 as well as according to ASTM 2100 and ASTM 2101. BFE Bio kit is also done for EN ISO 9237 for measuring the permeability of fabrics to air and it is applicable to most types of fabrics, including industrial fabrics for technical purposes, nonwovens and made-up textile articles that are permeable to air.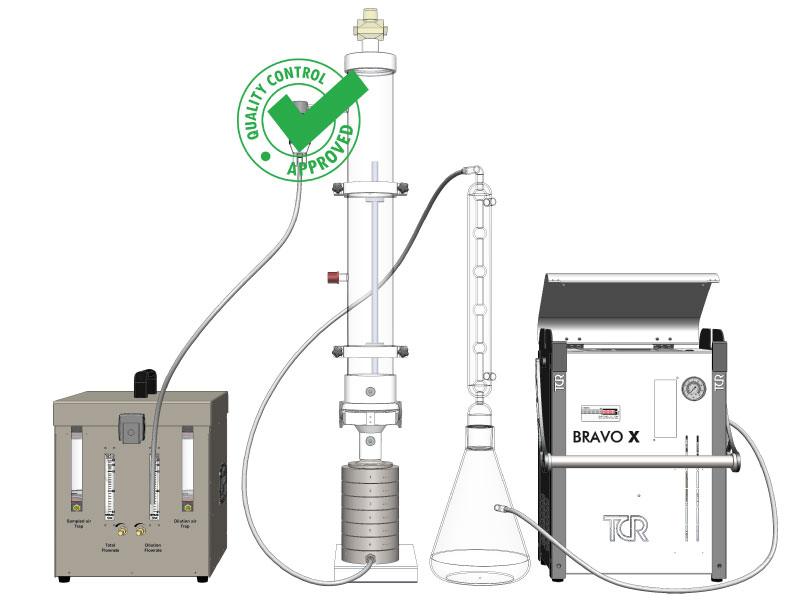 5
Electronic Flow Control Sampler
How to proceed the Bacterial Filtration Efficiency (BFE) and VFE Viral Filtration Efficiency Testing
EN 14683 (Annex B) – ASTM 2101
Fill in the aerosol generator with the bacteria suspension to nebulize;

Set up the multi stage cascade impactor and connect the sampling pipe;

Connect the atomization chamber to the impactor;

Connect the condenser at the impactor output suction line;

Connect the output of the condenser to the sampler, setting a 28,3 l/min flow;
Bioaerosol Sampling System
Breathability and Pearmeability (differential pressure)
EN14683 (Annex C) • ASTM F2100 • EN ISO 9237
The determination of differential pressure is performed under a specific constant flow condition and taking in account temperature and humidity during the test.
Unless otherwise specified, the breathability test (EN 14683 Annex C – ASTM 2100) shall be performed with the air flow direction from the inside of the mask to the outside of the mask.
Particle sampled holders to recover the sample, made of material as requested from the standard, are delivered.
The BFE VFE Bio Kit is suitable for measuring also the permeability of fabrics to air (EN ISO 9237). 
Sample holder 80 mm diameter made in PTFE – BFE test (EN 14683 Annex B; ASTM F2101)

Sample holders 25 mm diameter Stainless steel AISI316 – Breathability (EN 14683 Annex C; ASTM F2100)

Sample holder 5 cm2 – 20 cm2 – 50 cm2 – 100 cm2 – Permeability ( EN ISO 9237 )
6 Stage Andersen Cascade Impactor
From the standpoint of respiratory deposition, the human respiratory system acts as an aerodynamic airborne particle classifier.
The multi stage impactor, based on the particle inertial impaction principle, simulates the human respiratory tract (extra thoracic, tracheobronchial, alveolar).
The micro holes in each of the 6 impactor stages act as nozzles that, in function of the hole diameter and impaction distance, lets the caption of a dimensional range of particles, with a defined cutoff diameter and a characteristic efficiency impaction curve.
The special design of the multi stage impactor assures the collection of size-segregated particles that are suspended in the sample air.
BFE VFE Bio Kit – Bioaerosol Sampling System
Aerosol generator compatible with all type of liquids, suspensions and solutions;

Integrated pump (no compressed air required);

Adjustable Nebulyzing and dilution air (dry) flow;
6 Stage Andersen Cascade Impactor
Functioning principle: Inertial impaction;

Required Flow: 28,3 l/min (1 CFM);

Direct sampling on 90 mm petri plates;

Made of corrosion resistant material
Pyrex tempered glass, dimensions 600mm x 80mm Ø;

Upper PTFE flange (HEPA filter included);

Lower PTFE flange (included: BFE sample holder)

Connections for: Aerosol Generator; 6 stages impactor;  n° 4 side connectors (optical particle counter option)
PYREX glass Condenser;

PYREX glass Condensation vessel.
Electronic Flow Control Sampler
COD: AA99-000-0030SP [Bravo Basic H]
COD: AA99-000-0740SP [Bravo X BIO] (differential pressure)
Automatic flow regulation;

Flow range: 0.5 to 70 l/min;

Available models: Basic H or X-BIO;

HEPA filter (pump exhaust) included.
For Further Information, Write Us!